Introduction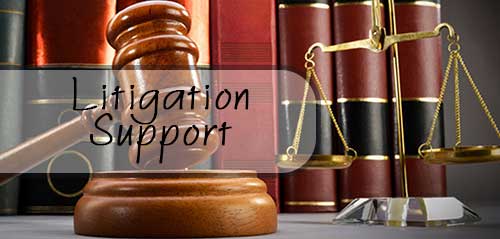 The art of business management, the world over, has undergone significant and drastic changes over the last few years, and this is only the beginning. Corporations can now leverage the Intellectual Property they own, making it their biggest asset. The scope and definition of IP is also expanding, in concurrence with the steep growth of International Trade & Globalization of economic activities. IPR has emerged as the 'Low Investment Growth Mantra', and we at Khurana & Khurana (K&K) understand this and the pivotal role IP plays or can play in our client's success. Today, we assist business houses to strategize and grow by leveraging their IP rights through the Creation, Promotion, Protection, and Commercialisation of Intellectual Properties. K&K has a legacy of over sixteen years and a team of experts specialising in each IP area that undertake its activities in three broad categories, and function as our client's point destination for all IP needs.
IP litigation is a complex and intricate process. The ever-changing nature of IP laws adds to the challenges encountered in this domain. Patent litigation, in particular, is often intricate due to the technical and specialized nature of the inventions involved. It requires a deep understanding of the specific subject matter and technical language associated with the invention in question. At our firm, we have a team of IP attorneys with diverse backgrounds and extensive knowledge in various subject areas related to patent applications.
We recognize that IP litigation requires a meticulous approach and encompasses various concepts. Therefore, we offer a comprehensive IP support litigation service to both law firms and individual IP attorneys. Our services aim to enhance the strength of your research and arguments, increasing your chances of success in the courtroom battle. We provide robust support that helps bolster your legal strategies, ensuring that you are well-equipped to navigate the complexities of IP litigation and achieve favorable outcomes.
Importance of Intellectual Property Protection:
The success of a business often relies on its intellectual property, encompassing trademarks, patents, copyrights, and trade secrets. Preserving the value and competitive advantage of these assets necessitates protection against unauthorized use, imitation, or theft by competitors, which is achieved through IP protection measures. By safeguarding intellectual property, businesses unlock opportunities to generate income and profit from their ideas. They can explore avenues such as licensing, franchising, or selling their IP rights to create new revenue streams and maximize the value of their discoveries, inventions, and creative works.
IP protection plays a vital role in helping businesses establish distinct and recognizable brands. Trademarks serve as safeguards for logos, slogans, and names associated with goods and services that have gained instant recognition among consumers. Ensuring the protection of intellectual property grants businesses the ability to take legal action against unauthorized use, counterfeiting, or infringement. In cases where violations occur, companies can seek assistance from IP litigation law firms in India to enforce their rights and pursue remedies such as monetary compensation, injunctions, or other legal relief.
The assurance of IP protection also encourages companies to invest more in research and development (R&D), leading to advancements in technology and science. Companies with robust IP portfolios tend to attract investors, partners, and acquirers, as they demonstrate the value of their innovative assets. In situations involving infringement or misappropriation, a company with well-protected intellectual property can initiate legal proceedings to uphold its rights and seek compensation for damages incurred. This proactive approach not only safeguards against infringement but also serves as a deterrent for potential violators, protecting the company's intellectual property assets.
Experience
Khurana and Khurana has a legacy of over sixteen years in Patent Litigation Support Services. We serve some of the leading Corporates, across the globe, for their complete Patent and IP Litigation Support needs. Khurana & Khurana has a strong and dedicated team of Patent Attorneys and Practitioners, wherein these Practitioners have a broad range of experience working with Leading Field Experts and In-house IP Counsels. Khurana & Khurana's primary service verticals fall into the following domains:
Litigation Support Services to Patent and Trade Mark In-house Counsels.
Assisting clients in strategizing IP Litigations, identifying potential issues and areas of concern, evaluating risks and defining the budget for taking forward the litigation to a logical conclusion.
Experience working as Counsel for many Patent litigation matters for our corporate clients.
Advising clients by dynamically evaluating multiple strategic dispute resolution routes on a case-by-case basis for the multinational corporations.
Conducting case law research, preparing and responding to legal notices, preparing plaints and taking on the complete litigation.
Our Approach
We at Khurana and Khurana work with each client independently wherein we customize the service based on the client's requirements and expectations. Our complete focus, while executing each project, is to ensure consistent quality standards while maintaining quick turn-around times. Our practice boasts access to all major Patent and Non-Patent Databases allowing the firm to undertake projects ranging from complex Sequence or Structure searches to Non-Patent Literature Searches for Integrated Circuit Layouts and or Semiconductor/Timing Circuits based technologies.
Our goal is to match our litigation strategy with the business objectives unique to our clients' needs. Our clients span a wide range of industries, including Fortune 100 companies as well as startups. By serving clients across diverse sectors, we have gained valuable insights and experience that enable us to provide comprehensive and tailored solutions to meet their specific needs. Whether it involves procurement strategies or navigating complex legal disputes, we are well-equipped to assist our clients across all stages of their business operations.
We also take pride in having access to all major Indian Legal Databases which allows K&K Attorneys to keep abreast with the latest case laws and to use/refer to them effectively at opportune times. Additionally, we also have meticulous security practices and policies in place to maintain all confidential data in a centralized tiered server with thorough access control mechanisms. Our firm follows the complete flow cycle of a typical Law Firm, and we support and work under strict SLAs to ensure seamless support and uptime to all Attorneys. Our firm strictly engages in Requirement Gathering -> Evaluation and Scope Assessment -> Execution and Peer Review -> Preparation and Sending of the Final Deliverable process for each project to ensure desired value proposition and consistency of results.